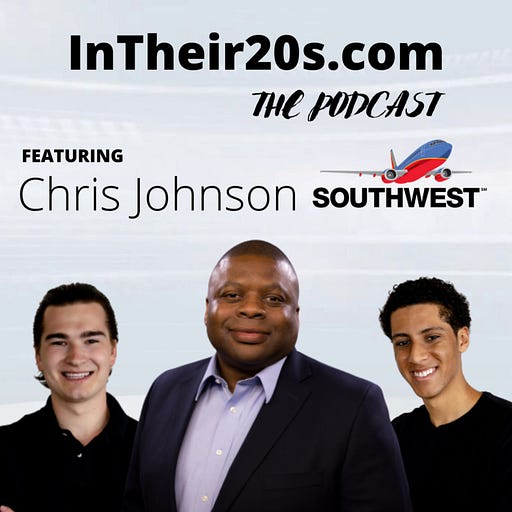 Aug 17, 2020 • 15M
#9 - Chris Johnson, Managing Director of Ground Operations at Southwest Airlines
Host Landon Campbell interviews top business leaders and extraordinary 20-somethings. Guests have included Steve Wozniak, Jason Calacanis, David Sacks, Cathy Bessant, Ev Williams, Beto O'Rourke, Jewel Burks-Solomon, Dr. Meg Jay, Tim Hardaway Sr, AJ Vaynerchuk, Sekou Kaalund, and Andy Dunn.
Chris Johnson is currently working as the Managing Director of Ground Operations at Southwest Airlines. Chris leads the daily efforts of domestic Ground Operations to ensure that the Customer Service, Operations, and Ramp Employees working at the airports have the tools and support they need to deliver the safest, most reliable, most efficient, and most hospitable airport experience.  
Chris started at Southwest Airlines in 1993, spending his entire career with Southwest. Chris started as a Ramp Agent in Detroit and has held Leadership roles as a Manager in Orlando, Assistant Station Leader in Oakland, Station Leader in Birmingham, Sacramento, Los Angeles, and Phoenix, Station Director, Senior Station Director, and Senior Director of Labor Relations.  
In our interview, Chris talks about how commitment to a company can elevate your career from being an everyday employee to an executive!
Introduction music by:  LAKEY INSPIRED - Chill Day
LAKEY INSPIRED - Chill Day  Download→ https://soundcloud.com/lakeyinspired/chill-day