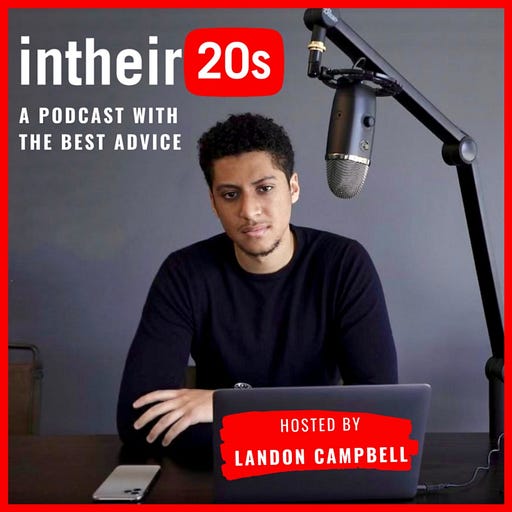 Dec 13, 2021 • 26M
#76 - Brett Goldstein - Co-Founder of Launch House
How Launch House Built a Community for Founders
Host Landon Campbell interviews top business leaders and extraordinary 20-somethings. Guests have included Steve Wozniak, Jason Calacanis, David Sacks, Cathy Bessant, Ev Williams, Beto O'Rourke, Jewel Burks-Solomon, Dr. Meg Jay, Tim Hardaway Sr, AJ Vaynerchuk, Sekou Kaalund, and Andy Dunn.
Stream on Apple Podcasts and Spotify
Brett Goldstein is the Co-Founder of Launch House, which is a community built to connect and support the world's most ambitious entrepreneurs and creators. Launch House brings together emerging leaders in the startup and entertainment worlds to live in illustrious mansions around the world.
In May 2020, a trio of friends rented a home in Tulum, Mexico and invited their internet friends. The project was dubbed The Launch House, and the 18 entrepreneurs who came to live there had to do the following: pay rent, launch projects and build their company in public. Other homes began popping up across the world around the same time, as a nod to old school hacker homes but built for the remote-work era of the coronavirus.
Over a year later, Launch House has expanded its physical and digital presence beyond a one-off project. The trio — Michael Houck, Brett Goldstein and Jacob Peters — announced that they've raised $3 million to expand their residency program, physically and digitally. Next fall, Launch House will launch LA and NYC-specific programs, as well as residencies built to gather people within Web 3.0, fintech, B2B enterprise and the creator economy.
"We see ourselves less as a hacker home and more as a venture-scaled membership community," Goldstein said. "These physical [spaces] are just an initial wedge to drive deep connections." The company's bet, therefore, is that it can help spin out enough successful startups that its name has the signal of a prestigious program — and thus get more members as its brand grows.