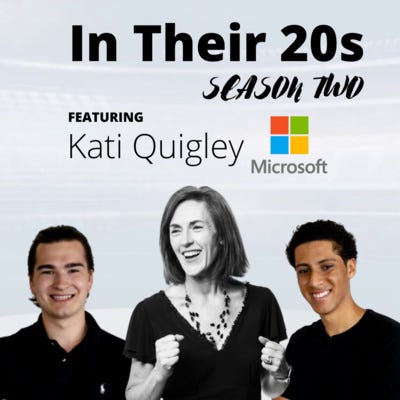 Aug 10, 2020 • 14M
#8 - Kati Quigley, Senior Director of Global Industry Marketing at Microsoft
Host Landon Campbell interviews top business leaders and extraordinary 20-somethings. Guests have included Steve Wozniak, Jason Calacanis, David Sacks, Cathy Bessant, Ev Williams, Beto O'Rourke, Jewel Burks-Solomon, Dr. Meg Jay, Tim Hardaway Sr, AJ Vaynerchuk, Sekou Kaalund, and Andy Dunn.
Kati Quigley is currently working as the Senior Director of Global Industry Marketing at Microsoft. Kati has nearly 20 years of experience with Microsoft holding various positions in their marketing department. 
Kati has always had a passion for event planning and execution. In her 20s she worked for various non-profit organizations, giving her experience in event planning. Kati used this experience in her 20s to get an event marketing position that began her amazing career with Mircosoft.   
In our interview, Kati gives important advice to students and professionals in their 20s trying to find the perfect company culture.
Introduction music by:  LAKEY INSPIRED - Chill Day
LAKEY INSPIRED - Chill Day  Download→ https://soundcloud.com/lakeyinspired/chill-day