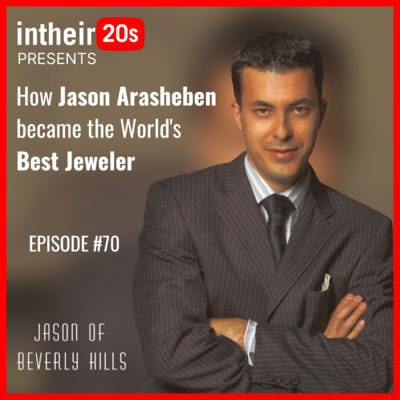 Nov 8, 2021 • 24M
#70 - Jason of Beverly Hills - World's Best Jeweler
Host Landon Campbell interviews top business leaders and extraordinary 20-somethings. Guests have included Steve Wozniak, Jason Calacanis, David Sacks, Cathy Bessant, Ev Williams, Beto O'Rourke, Jewel Burks-Solomon, Dr. Meg Jay, Tim Hardaway Sr, AJ Vaynerchuk, Sekou Kaalund, and Andy Dunn.
Jason Arasheben, aka Jason of Beverly Hills, is the go-to creative genius for spectacular custom designed jewels for high-profile individuals. He's most known in the luxury market for his outrageous and over the top diamond pieces. A few of his notable clients include Drake, Michael Jackson, LeBron James, Matthew McConaughey, A$AP Rocky, and NBA teams like the Los Angeles Lakers, Golden State Warriors and Milwaukee Bucks. 
Special thank you to this interview's official sponsors: Glewee and Collectable.
Glewee is the first exclusive marketplace that bridges the gap between Brands and Creators like yourself to connect, collaborate, and execute campaigns all in one platform. Learn more at www.glew.ee
Collectable is the #1 fractional investing platform for sports. They make the top end of the market accessible to all. Learn more at www.collectable.com