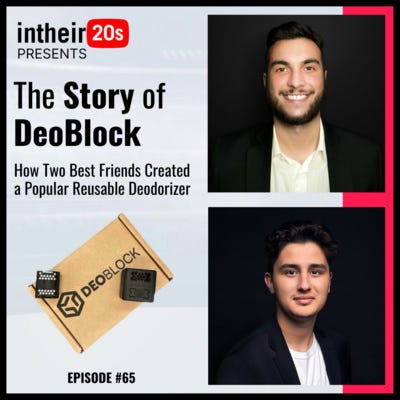 Oct 11, 2021 • 21M
#65 - Anthony Tamras and Drake Roberts, Founders of DeoBlock
Host Landon Campbell interviews top business leaders and extraordinary 20-somethings. Guests have included Steve Wozniak, Jason Calacanis, David Sacks, Cathy Bessant, Ev Williams, Beto O'Rourke, Jewel Burks-Solomon, Dr. Meg Jay, Tim Hardaway Sr, AJ Vaynerchuk, Sekou Kaalund, and Andy Dunn.
Anthony Tamras and Drake Roberts are the twenty-something founders of DeoBlock: a reusable deodorizer that will take over the market. DeoBlock was created to solve bad odors once and for all. DeoBlocks deodorize spaces with the use of a plant-based refill pod infused with essential oils that lasts for 30 days. After you have a DeoBlock, all you need are the refills.
Their journey to create this product began when they were seniors in high school. As active individuals, they realized that there were no  solutions to odor emitting equipment and gym bags. They were tired of using products that only masked odors with other "good" scents. So, they set out to create a product that actually deodorizes bad odors at the source. Over the last 5 years, they worked diligently to create a product they are proud to stand behind.
DeoBlocks can also be customized with any logo which makes it a great giveaway or resale opportunity for gyms, colleges and corporations.