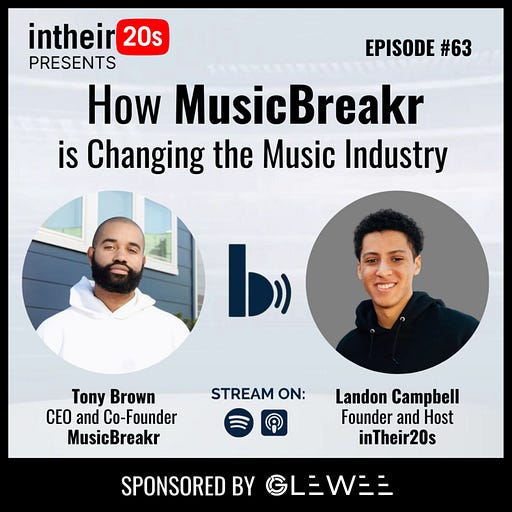 Sep 27, 2021 • 31M
#63 - Tony Brown, CEO and Co-Founder of MusicBreakr
Host Landon Campbell interviews top business leaders and extraordinary 20-somethings. Guests have included Steve Wozniak, Jason Calacanis, David Sacks, Cathy Bessant, Ev Williams, Beto O'Rourke, Jewel Burks-Solomon, Dr. Meg Jay, Tim Hardaway Sr, AJ Vaynerchuk, Sekou Kaalund, and Andy Dunn.
Tony Brown is the Chief Executive Officer of Breakr. Tony comes from the financial services background, having worked as a principal at Acumen Fund and both J.P. Morgan and Goldman Sachs. MusicBreakr is a new and exciting company that connects artists & creators to break new music through compelling content. The company has fostered collaborations with about 50,000 creators across 133 countries. MusicBreakr recently raised $4 million in seed money, with an impressive group of investors including hip-hop artist Nas, Salesforce Founder Marc Benioff, retired NBA All-Star Baron Davis, and TikTok Star Josh Richards. 
Today's episode is sponsored by Glew.ee, which is the first free to use exclusive marketplace for Brands and social media Creators to connect, collaborate, and execute campaigns all in one platform. Brands can apply for an account in the Glewee Brand Community at www.glew.ee to access hundreds of industry leading pre-vetted Creators.