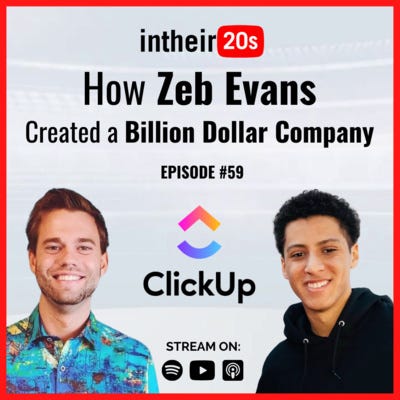 Sep 6, 2021 • 21M
#59 - Zeb Evans, Founder and CEO of ClickUp
Host Landon Campbell interviews top business leaders and extraordinary 20-somethings. Guests have included Steve Wozniak, Jason Calacanis, David Sacks, Cathy Bessant, Ev Williams, Beto O'Rourke, Jewel Burks-Solomon, Dr. Meg Jay, Tim Hardaway Sr, AJ Vaynerchuk, Sekou Kaalund, and Andy Dunn.
Zeb Evans is a serial entrepreneur that's started several software companies with over $75 million in revenue. Currently, he's founder and CEO at ClickUp, a productivity platform where people plan their work. ClickUp is a Unicorn company, which means its worth over $1B.
We spoke about why he founded @clickup, the best traits for aspiring entrepreneurs, managing mental health, and Zeb's plans for the future.