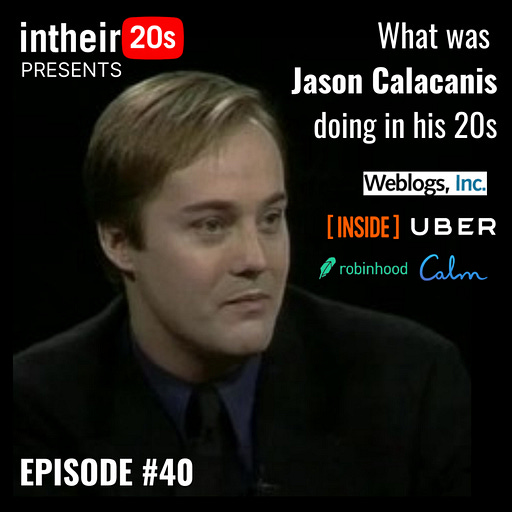 Apr 19, 2021 • 25M
#40 - Jason Calacanis, Angel Investor
Host Landon Campbell interviews top business leaders and extraordinary 20-somethings. Guests have included Steve Wozniak, Jason Calacanis, David Sacks, Cathy Bessant, Ev Williams, Beto O'Rourke, Jewel Burks-Solomon, Dr. Meg Jay, Tim Hardaway Sr, AJ Vaynerchuk, Sekou Kaalund, and Andy Dunn.
Jason Calacanis is one of the most influential Angel Investors of our time. He began his career as a reporter in New York City that covered a diverse group of topics such as tech news, pop-culture, and the internet industry. He founded Silicon Alley Reporter, Weblogs Inc, Mahalo, and Inside.com. He turned down a $20 million offer for Silicon Alley Reporter. Then the dotcom bubble burst, and he wound up with a net worth of negative $10,000. Calacanis bounced back and founded Weblogs, which he sold to AOL after 18 months for $30 million. The Angel Investor for Weblogs was Mark Cuban.

Most of Jason's money has been made by angel investing. He placed an early bet on Uber that paid off, and he's now a professional investor with his own syndicate. Calacanis' book is called, "Angel: How to invest in technology startups —Timeless advice from an Angel Investor who turned $100,000 into $100,000,000."
Watch on YouTube: https://youtu.be/_mM3tx9O9Zc Introduction music by: LAKEY INSPIRED - Chill Day LAKEY INSPIRED - Chill Day  Download→ https://soundcloud.com/lakeyinspired/chill-day