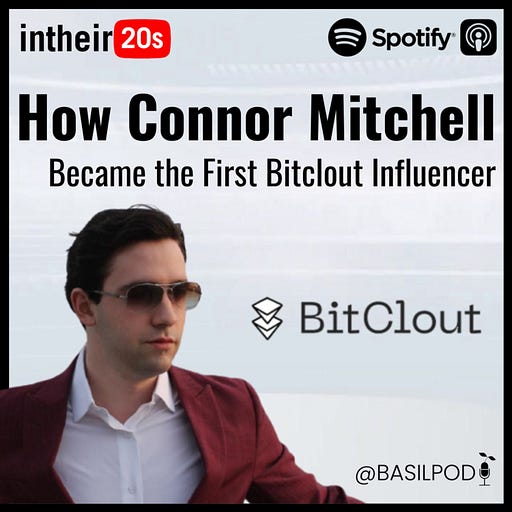 Apr 16, 2021 • 19M
#39 - Connor Mitchell, The First BitClout Influencer
Host Landon Campbell interviews top business leaders and extraordinary 20-somethings. Guests have included Steve Wozniak, Jason Calacanis, David Sacks, Cathy Bessant, Ev Williams, Beto O'Rourke, Jewel Burks-Solomon, Dr. Meg Jay, Tim Hardaway Sr, AJ Vaynerchuk, Sekou Kaalund, and Andy Dunn.
Connor Mitchell has been called the First BitClout Influencer for his viral fame and success on the newest and most popular social media platform: BitClout. BitClout allows users to speculate on people and posts with real money, and it's built from the ground up as its own custom blockchain. Its architecture is similar to Bitcoin, only it can support complex social network data like posts, profiles, follows, speculation features, and much more at significantly higher throughput and scale.
Like Bitcoin, BitClout is a fully open-source project and there is no company behind it-- it's just coins and code. Every profile on the platform gets its own coin that anybody can buy and sell. These are called "creator coins," and you can have your own coin too simply by creating a profile. The price of each coin goes up when people buy and goes down when people sell.
Shortly after joining the platform, Connor was verified and currently has more followers than people like Jake Paul, Grant Cardone, Steve Aoki and more! Connor believe BitClout can be a great way to build your brand and monetize your following.
This interview was sponsored by BasilPod 🌿🎙
BasilPod is a company that believes if anyone can share their ideas on Clubhouse, why not do it on podcasts? If you sign up at www.linktr.ee/basilpod, you will be placed on a podcast with hundreds, thousands, or TENS of thousands of listeners - completely free for your first booking, and after that only $25/mo if you're under 25, as their 'young professionals' discount, or $50/month if you're over 25. Those rates are for unlimited bookings during those months. Podcasts are a fantastic way to spread your ideas, build a personal brand, and connect with audiences that care! Find them at @basilpod