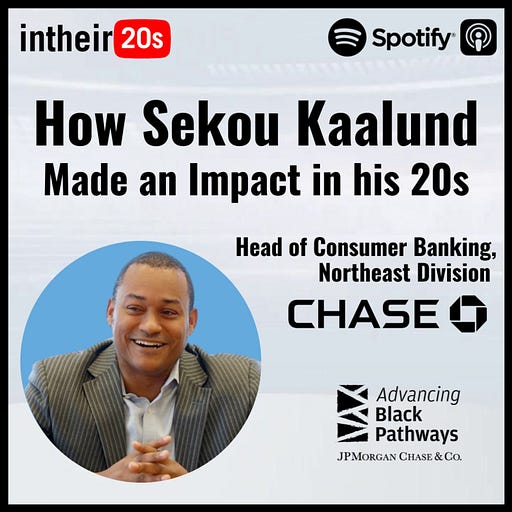 Apr 5, 2021 • 29M
#38 - Sekou Kaalund, Head of Consumer Banking, Northeast Division at Chase
Host Landon Campbell interviews top business leaders and extraordinary 20-somethings. Guests have included Steve Wozniak, Jason Calacanis, David Sacks, Cathy Bessant, Ev Williams, Beto O'Rourke, Jewel Burks-Solomon, Dr. Meg Jay, Tim Hardaway Sr, AJ Vaynerchuk, Sekou Kaalund, and Andy Dunn.
Sekou Kaalund is a Managing Director at JPMorgan Chase and Head of Consumer Banking for the Northeast Division. In this role, Kaalund oversees 1000 branches in five regions with 10,000 employees and over $315 billion in deposits and investments.  
Prior to this role, Kaalund launched and was the Head of Advancing Black Pathways ("ABP"), a JPMorgan Chase program created to help Black individuals, families and businesses achieve sustained economic success. Kaalund set bold goals, including hiring 4,000 black students in 5 years, reaching 40% of the goal in less than two years. During his tenure, Kaalund deepened relationships with historically Black Colleges and Universities, and even launched a Hardship Fund to help keep financially distressed students in school, which became critical during COVID-19. He also launched Advancing Black Entrepreneurs, a program to provide access to capital and insights for Black businesses.
Kaalund's success in building ABP led to the firm's historic $30 billion commitment to closing the racial wealth gap.
Watch on YouTube: https://youtu.be/5WVR4zwMo20 Introduction music by: LAKEY INSPIRED - Chill Day LAKEY INSPIRED - Chill Day  Download→ https://soundcloud.com/lakeyinspired/chill-day